Home Upgrades That Save You Money
Our professional auditors are trained to identify where you can improve efficiency in your home. Our friendly staff will guide you through the home upgrades to make your home safe, comfortable and more efficient. We work with reputable and vetted contract professionals who are the area's best in their field.
Let us do the work while you put your mind at ease. We have financing available and can walk you through the rebate process to help maximize your savings.
Following Your Home Performance with Energy Star Action Plan
Your Home Performance with Energy Star report will identify improvement opportunities throughout your home. Our home upgrade team can help provide you with a blueprint to take steps to optimize your home's performance. Gone will be the days of drafty rooms and inefficient heating and cooling equipment. We're here to help make your home the best place on earth – comfortable throughout, safe of toxic gases and efficient with how it's heating and cooling to save you money!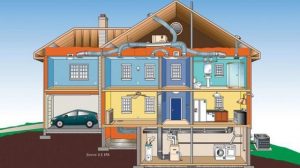 Air Seal, Insulate & Ventilate
Adding air sealing, insulation, and ventilation to your home is a great way to increase the comfort of your living environment. Uncontrolled air leakage reduces the effectiveness of existing insulation, brings in pollutants from unconditioned spaces (i.e. outside, attics, crawlspaces, and attached garages), and loses heated and cooled air. Uninsulated attics, walls, and crawlspaces result in heating and cooling loss and reduced comfort. Insufficient ventilation in bathrooms and kitchens, or lack of mechanical ventilation result in moisture build-up, and reduced indoor air quality. EZ Green Home is here to help. Again we have simplified this process, to help optimize the comfort, health and efficiency of your home.
"Seal it tight, Ventilate it right!"
Air Seal

PROTECT YOUR INDOOR AIR
Reducing the amount of air that leaks in and out of your home increases comfort, cuts heating and cooling costs, and creates a healthier indoor environment. Air sealing includes:
Seal air leaks around recessed lights, attic and wall penetrations, wall/ceiling joints, wall/floor joints, attic hatches, and soffits.
Weatherstrip and caulk around windows and doors
Provide a vapor barrier between living space and attached garages.
Insulate

RESISTANCE TO HEAT 
Often homes do not have adequate levels of adequate insulation. This may be because air and moisture have made existing insulation less effective, or codes when the home was first built did not require the standards that are set today. Areas we recommend starting with to provide the greatest levels of impact are:
Attics
Rim joists and kneewalls
Encapsulating crawlspaces and basements
Ventilate

CONTROL MOISTURE
Ventilation is very important in an energy-efficient home. It helps control moisture, which can lead to mold growth and structural damage. Recommended ventilation include:
 Local ventilation in kitchens and bathrooms to remove indoor air pollution and moisture at its source.
 Installation of a smart-switch to provide controlled and automatic run-time
Venting to the outside to bring moisture completely out of the home.
Duct Clean & Seal
Are you tired of wasting money? Tired of having hot and cold spots in your house? You're not alone. In fact, the average duct system loses 25%-40% of heating and cooling through leaks in the air duct system. Duct repairs could be the most important energy improvement measure you can do. Aeroseal helps to eliminate that leakage to produce even more conditioning throughout the house as well as less wasted energy.
Without duct sealing, your home may be one of the 3 of 4 homes experiencing unintended air entering into and out of the ductwork. Duct leakage results in air not getting to the intended locations in your home, resulting in higher energy bills, reduced air flow, and comfort issues. Untreated and unfiltered air from crawlspaces, attics, wall cavities and other spaces can be pulled into the ductwork and enter the home air stream. Your HVAC system is forced to work harder trying to get air where it is designed to go.
When it comes to ductwork, follow our easy three-step process:
Duct Test

DETERMINE AIR LEAKAGE
EZ Green Home can conveniently perform a duct test at the same time you receive a Home Performance with Energy Star audit. With state of the art diagnostic equipment, we can determine:
Total external static pressure
Total leakage
Total leakage to the outside
A duct test is also required to qualify for participating utility rebate incentives on duct sealing. For BGE, Pepco, SMECO and Delmarva this is $500 per system standalone or $750 per system when done with air sealing and insulation work.
Duct Clean

REMOVE POLLUTANTS
EZ Green Home can help you determine if you will be needing a duct cleaning, or you can self-diagnose your system. A few ways to check are:
Open vent covers and look inside for dirt, debris, or matted dust.
Examine return air registers and air filters for dust build-up.
Check the furnace compartment, blower fan and motor for dust.
Check your air conditioning coil, usually beneath the panel for dust.
Check for dirt around supply registers.
If you do need a cleaning, we can help!
Aeroseal

SEAL AND SAVE
Not sealing your ducts after having them cleaned is like driving through a mud puddle after washing your car.
Aeroseal is a patented technology that seals ducts from within and can reduce leakage up to 90% to improve comfort and provide cleaner indoor air. Every Aeroseal service comes with a 10 year warranty backed by manufacturer.
After your Aeroseal service, EZ Green Home will perform another duct test to measure the results and walk you through the rebate process when applicable.